We sent out quite a few FREE Digital Stamps yesterday in response to our "You've Been Stamped" campaign and Crafting Joanne and Peggy of The Wired Angel both sent us pics of the images they chose used in projects. These girls are on the BALL! I wish I had that kind of energy! LOL
First, Joanne of
Crafting Joanne
created this card using Frog Dropping By On A Leaf. She colored the image with copic markers, used layers of papers, ink, brads and other embellishments to give this card lots of personality. We love the way the image is partially cut out! TOO CUTE Joanne! Thanks so much for sharing your creation with us!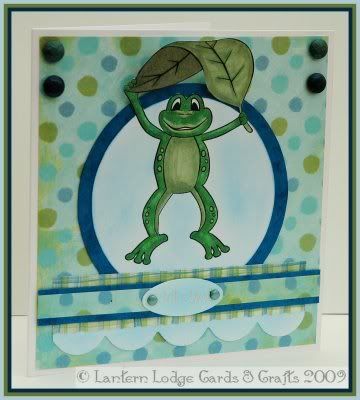 Next, Peggy Marsh of
The Wired Angel
used Rain Bear to create this great Miss You card. She used great bright, vibrant colors in Prisma Pencils and a blender pen. Her shading is wonderful! She says the bear looks sad to her so she titled the card Sure Do Miss You! What a fun card! LOVE IT! Thanks so much for sharing!