Here are two great cards created with our Rain Bear image. Both artists used pop dots to raise certain pieces of the image creating a 3-D effect and giving the image much more interest.
Dee of
DeesDivineDesigns
added clear glaze to the umbrella then 'popped' it with foam dots. She also 'popped' the rubber boots. I love the distressing on the paper edges! What a great job! Thanks Dee, just super!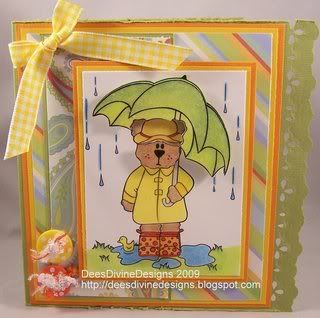 Allie of
AlliesCreativeDesigns
'popped' the rain hat and the water lending interest to both the top and the bottom of the image! She also used clear embossing on the raindrops for a 'wet' look as well as dimension! Thanks SO much Allie, he is SO cute!!